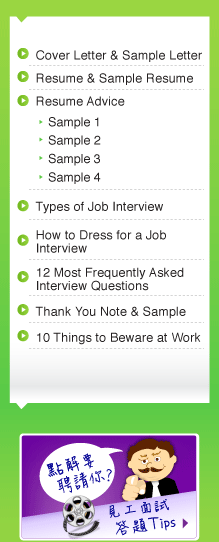 Standford Rd, Hong Kong - Tel : 9113XXXX - E-mail: xxx@gmail.com
Education
International

P

rogramme

F

ranco-Chinois- a double bachelor's diploma:
2002-2005

ESC (Ecole Superieur Commerce), France

Management: Principles of management, organization theory, behavioral science.
Communication : Business communication, personnel management, human relations .
Marketing : Marketing theory, sale management, simulation Markstra.
2000-2002
City University of Hong Kong

Majored in courses contributing to management qualification: Management, accounting, economics, marketing, sociology
Work Experience
02.2004

Internship of 7 months –XXX Associe, in France

Result:
This is a communication'

s agency which

serves t

he vendors of

luxury brands like

LAMCOME, ARMANI, VAN CLEEF&ARPELS

. I am

assigned to their department of marketing responsible for the Chinese market and attending to such matters as analyzing the findings of market research, monitoring the reactions to market reports, business prospecting and negotiations with

the client, and the

establishment of

their first office in Chine.
The

agency

began their first

serious discussions

with the Chinese group Zheng.
02.2003

Market reseach - YYY, in France

Result:

This is a biscuit company

which

hold

s

8% of t

he confectionery

market in France. I researched the market and analyzed the

preferences of their

consumers.

On this internship

, I applied

successful marketing

methodology

and

, with my work team,

designed a questionnaire, as well as formulated a budget for launching

the << Biscuits Roses>> in Chine.
The company

has targeted

to launch the product in 2005.

01.2002

Market reseach - YYY, in France

Supply chain management:

My job was to check

the quality and the quantity of the stock in Carrefour.

In this I made good practice with the FIFO inventory system for product flow control .
Skills Set
| | |
| --- | --- |
| Chinese | Mother tongue |
| French | Maitrise |
| | Skilled in Microsoft Office, Adobe Photoshop, Flash, Internet, Visual Basic and FoxPro |
Others
06.2002

Voluntary Help of 3 months

I was assistant

to

the American teacher in the project 'Help Western China',

a scheme sponsored by

CCC Manufacturing International Corporation.

There, I gave English and computer lessons.